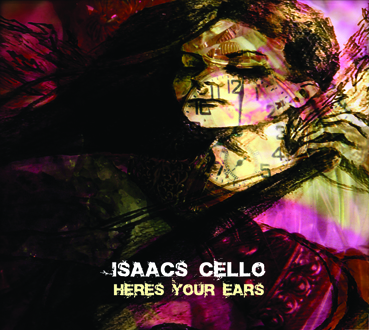 Appearance on the album 'Here's your ears' (Louvana Records 2011) on keyboards and as producer.
TRACKLIST
1. Intro
2. Hands
3. Catching A Rhino
4. Stone Of Dysfunction
5. Kalila Wa Dimna
6. Strange Delight
7. Here's Your Ears
8. Outro
Recorded in four days in Lefkosia (studio Eleven63) in January of 2011, 'Here's your ears' reveals in a dynamic way, Isaac's Cello. With two improvised pieces and six sweeping compositions that move in the realm of psychedelic rock and alternative metal, Zeyn Mroueh (vocals, guitars, bass), Jacob Papageorgiou (guitars, bass, stylophone) and Liam Iacovou (drums), manage to combine loud and melodic and to achieve a very well structured sum of songs. Additional musicians on the record are Dimi Kolovopoulos on alto sax, Andreas Trachonitis on percussion and Lefteris Moumtzis on keys. Moumtzis and Trachonitis are also responsible for the production.
The band's intentions unfold from the first tune of the album (Hands), which effortlessly puts the listener in a rhythmic mood. Then comes the explosive Catching A Rhino and the magnificent Stone Of Dysfunction in which we can hear the versatile influences of the group (Hendrix, Zeppelin, The Mars Volta, Radiohead κ.α.). Kalila Wa Dimna could be the instrumental theme of an epic mythological story, while Strange Delight and Here's Your Ears leave the listener fulfilled. Overall, Isaac's Cello, are giving us an exciting debut, and at the same time create expectations for their future discography.
LINKS
 FACEBOOK