Happy few! A performance within an installation...
Details

Friday, 08 April 2022
I'm doing a special performance at the opening of this beautiful exhibition in the ruins of Ancient Amathounta on the 16th of April. The installation is by the artist Andreas Kalli and we have worked together on choosing the music very carefully from past songs of mine as well as unreleased material that I'm preparing for my next album, so they are alligned with the concept of the installation.

I will be accompanied by Nama Dama on backing vocals and keys. There will be some dance and movement involved as well. I am very excited about this.

The entrance is free for the opening.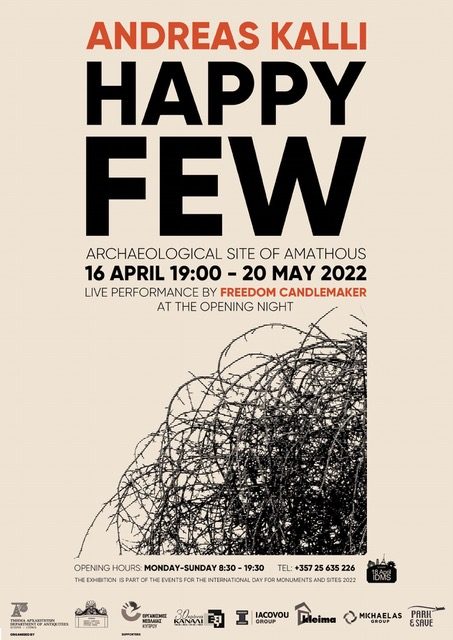 A few words from the press release:



'The Archaeological Site of Amathous hosts for the first time a most interesting exhibition of contemporary art in terms of artistic conception. By using a natural material (the bush), Andreas Kalli transcribes the ancient columns of the site to the present day. By having as a driving force, the search for the indissoluble relationship of the human – creator with the social environment and having as its core the artistic and conceptual searches, the concepts of evolution, life, consciousness, collective memory and the trace, Andreas Kalli creates the sculptural installation HAPPY FEW.

The encounter of contemporary art with Antiquity in the public sphere, activates and highlights the eternal and rich dialogue concerning the issues of history, memory, identity, culture and the environment. The exhibition brings to the forefront matters of communication and self-reflection. The viewer is invited to a new encounter with ancient civilization, which urges us all to reconnect with the past in order to rediscover our relationship with time and the space that surrounds us.'