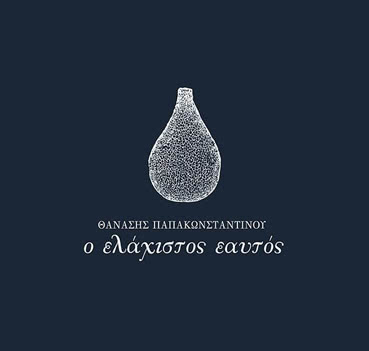 Appearance on the album 'O Elahistos Eaftos' (Inner Ear 2011) on electric bass and glockenspiel.
TRACKLIST
1. LOCO-MOTIVO
2. Ο EΛΑΧΙΣΤΟΣ ΕΑΥΤΟΣ
3. ΠΟΙΟΣ ΘΑ ΜΕ ΘΥΜΑΤΑΙ
4. SAN MICHELE
5. ΑΝΤΑΡΚΤΙΚΗ
6. ΣΑΝ ΠΑΙΔΙ
7. ΤΟΥ ΕΡΩΤΑ ΚΑΙ ΤΟΥ ΘΑΝΑΤΟΥ
8. ΟΜΙΧΛΗ
9. ΕΡΩΤΗΣΗ ΚΡΙΣΕΩΣ
10. ΣΙΜΟΥΝ
11. ΦΕΓΓΑΡΟΣ
12. ΤΑ ΤΡΑΓΟΥΔΙΑ ΠΟΥ ΕΓΡΑΨΑ
Inner Ear welcomes 2011 and the new, long awaited album of Thanasis Papakonstantinou, which is entitled "O Elahistos Eaftos" ("The Minimal Self") and will be released under the label of Exostis on February 1st. Thanasis Papakonstantinou has written the music and lyrics and also created part of the arrangements, while the main arranger of the album is Fotis Siotas. The majority of the recordings took place at Ahos Studio and were engineered and mixed by Hristos Megas. Thanasis Papakonstantinou is the main performer of the tracks, with guest appearances from Fotis Siotas and Orfeas Peridis. It is difficult to describe "O Elahistos Eaftos" ("The Minimal Self") in words but the skein begins to slowly untangle, when one follows the creator's key-words:
«The minimal self, the crazy dancer, the ark of movements, the tracer of Vega. The most disobedient of the two ghosts∙ the o in Ego. He saw the first day that dawned – where all the mysteries came from – for this he has become violate and inarticulate and incurable air that shakes the teeth.
When he is scared his hair changes and becomes the tendons of a hunted animal, the pine-needles in the wood of deciduous pine-trees, or even bodies on the train rails. And while he can identify fragments, he can't tell the difference between horror and a codling. He dirties the lying sky with his feet and steals from hell everything that's his. The minimal, we say, the one that feels nostalgic for the beginning, the one that the white of his eye is filled with moss, the carrier of dreams that changes the shapes and forces the space to become nauseous.
The helot wearing one sandal, the sudden crack, the city of doorless buildings, the nasal whale, the sea monster of Jonah, the wild boiling that prepares the greens.
This minimal, this self, identical with a refrigerator's noise in an empty house, bonds harmonically with the other, the cosmic, and together they weave the terror and then the faith. He freezes time, freezes blood, doesn't evolve, doesn't construe. He deeps his fingers in the honey of life and, almost autistically, he stirs it forever".