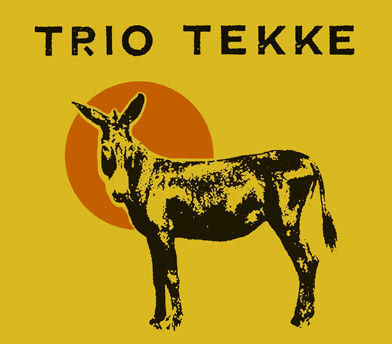 TRACKLIST
1. Αντιγόνου / Andigonou
2. Ο Αντώνης Ο Βαρκάρης / O Antonis O Varkaris
3.
Η Στολή Του Μπάτμαν / Batman's Uniform
4. ManPilatos
5. Κέμτρειλς / Chemtrails
6.
InDa
7. Το Γελεκάκι / To Gelekaki
8. Καραγκιόζο / Karagiozo
9. Πάμε Στο Φάληρο / Pame Sto Faliro
10.
Noouneim
11. Ατσιγγάνα / Atsiggana
12. InDa (Alt. Version)
Antonis Antoniou
- tzouras / vocals,
Lefteris Moumtzis
- guitar / vocals,
Colin Somervell
- double bass
Pavlos Michaelides -
violin on #6


SONGLINES (Nov 2011) - Samas (****) - Rebetika with grit, and just a hint of jazz
This is a fantastic album - the second from Cyprus-based, London-formed neo-rebetika band - full of bouncy, lively playing and singing. The trio of Antonis Antoniou, Lefteris Moumtzis and Colin Somervell play tzouras (a small bouzouki), guitar and double bass respectively and each of them contributes to the vocals. Picking up where their first album, Ta Reggetika, left off, Samas is, like its predecessor, nicely inventive when needed but always with a firm sense of the rebetika tradition these musicians are steeped in. Much of the CD is fairly straightforward reworkings of either traditional songs by luminaries such as Yiorgos Batis or written by members of the trio. I particulatly liked "O Antonis o varkaris", originally by Spyros Peristeris, and "I stoli tou Batman" (Batman's Uniform) by Antonis Antoniou; The latter definitely worthy of becoming a rebetika classic. Another of Antoniou's pieces is the marvellously cheeky instrumental "Karagiozo". "To gelekaki" might throw you a bit at first - and I wasn't totally sure that the electronically treated voices worked - but the foot-tapping, reggae-cum-jazzy number that it segues into is just as infectious as the rest of the disc. All in all, this is great fun: beautifully played and highly recommended.
Maria Lord