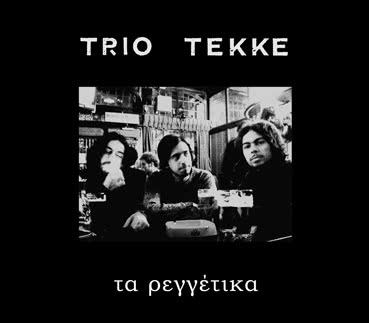 TRACKLIST
1. Σούρα Και Μαστούρα / Soura Ke Mastoura
2. Φραγκοσυριανή / Fragkosyriani
3. Δερβίσικο Τσακάλι / Dervisiko Tsakali
4.
Ο Νίκος Ο Τρελλάκιας / O Nikos O Trellakias
5. Αραμπατζής / Arambatzis
6. Γρανάδα / Granada
7. Ο Λέφτης Ο Τρελλάκιας / O Leftis O Trellakias
8. Όταν Μιλάει Το Σώμα / Otan Milai To Soma
9. Αλάνα Πειραιώτισα / Alana Pireotissa
10.
Μότζο / Mojo
11. Η Ταβέρνα Και Το Ζάρι / I Taverna Kai To Zari
12. Όλοι Οι Ρεγγέτες / Oli I Reggetes
13. Τώρα Την Καλοκαιριά / Tora Tin Kalokeria
14. Πέντε Μάγκες Στον Περαία / Pente Magkes Ston Perea
15. Καραγκούνα / Karagkouna (Traditional)
Antonis Antoniou
- tzouras / vocals,
Lefteris Moumtzis
- guitar / vocals,
Colin Somervell
- double bass
Michael Fletcher
- flute on #15
The first album by the Rempetiko influenced trio, formed in London, UK in 2005. It was recorded live in 2 days in a bedroom in Camberwell, London and became one of the best selling albums of recent years by a Cypriot band. The selections are mainly rempetiko classics plus a few original mainly by Antoniou (Dervisiko Tsakali, Granada, O Leftis o Trellakias, Mojo) and one by Moumtzis (Otan milaei to soma).