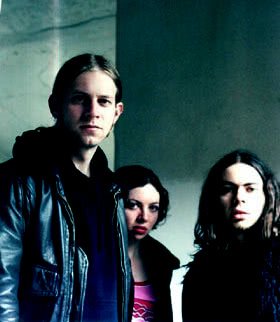 Snakecharmer was an alternative rock trio formed by Lefteris Moumtzis, Mario Michael and Marianna Moumtzi in 1998, initially as a cover band, but they soon started writing their own songs. They performed frequently in their hometown Lefkosia, becoming one of the tightest and most energetic bands on the scene, gradually gaining a substantial fan base.
In 1999 they went into the studio to record their debut LP, 'Warm Today'. It took a lot of energy and effort and nine months later, in May 2000, the album was released in Cyprus to a great reception. Shortly after, they landed a support slot for the famous Greek rock band Trypes, which marked one of their biggest moments. During the couple of years that followed, they were joined by a fourth member on guitar and keyboards, Pavlos Chrysanthou, who later left the band. They have appeared extensively in Cyprus, as well as in England, Greece and Switzerland.
Snakecharmer stayed active until 2006 when they disbanded, never finishing or releasing the recordings for their long-awaited second album. They definitely left their mark on the Cypriot rock music scene and are remembered for their explosive live shows.
Links
  MYSPACE
Video