Description
Trio Tekke is a band that composes songs in the rempetiko manner (a traditional Greek 'blues' from the early 20th century) and covers classics of the genre, in their own unique and quirky way.
History
They formed in London in late 2005 by longstanding friends Antonis Antoniou and Lefteris Moumtzis out of mutual love for the rempetiko song. Upon jamming with a tzouras and banjo (due to lack of a guitar) they found a new way to interpret the old songs they were playing, and 'reggetiko' was born. Tapes were recorded urgently over the next few weeks and after being joined by Anglo-Chilean double-bassist Colin Somervell, they were soon recording their first EP.
It took the band a few years to release a full album, but
'Reggetika'
was worth waiting until 2009 for, going on to become one of the most successful Cypriot records of recent years. Their second effort,
'Samas'
, was released in 2011 to great reviews and UK recognition, including a distribution deal with British company Proper Distribution.
They have appeared England, Ireland, Greece, Germany, Italy, Spain and, of course, Cyprus. In 2012 they recorded for BBC3, and were invited to play at the BBC stage at Latitude Festival. They appeared on a Songlines compilation CD after being shortlisted for best newcomer that year. Their songs also appeared on compilations by the World Music Network and Gilles Peterson, as well as several documentaries.
In 2015 they began a new project with drummer
Dave De Rose
, with which they played a few shows over the summer.The sound of the band has changed with the addition of drums and Moumtzis using electric guitar and fx. This collaborations resulted to the release of the album '
Zivo
' in June 2017 to critical acclaim. The band was renamed Trio Tekke & Dave De Rose.
In April 2020 Trio Tekke is releasing its fourth album called '
Strovilos
'. It will be released on the UK label Riverboat, a division of World Music Network. The band is continuing from where Zivo left off and expanding its sound even further, adding synthesizers, organ and having three guest vocalists; Fotis Siotas, Dimitris Mystakidis and Yiannis Dionysiou.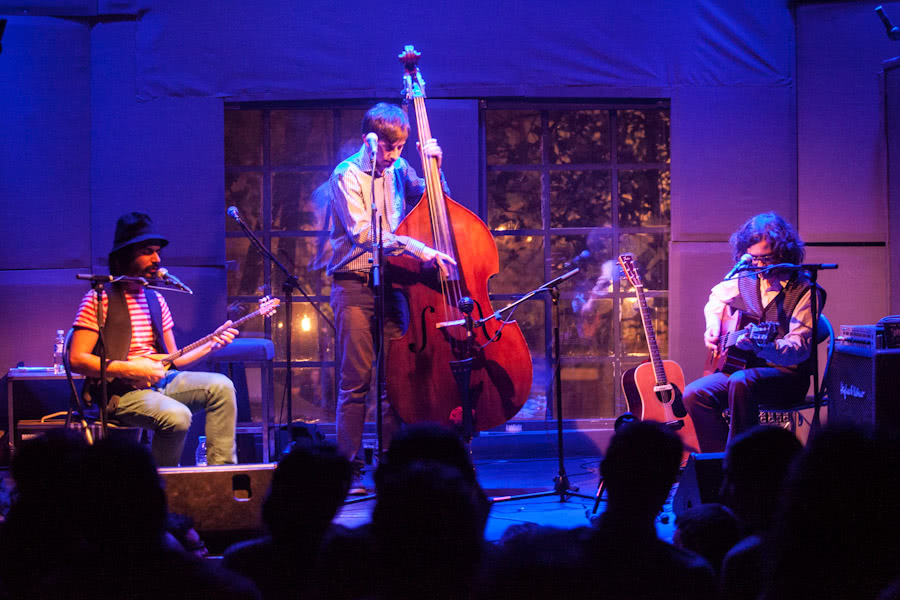 Band
The trio consists of
Antonis Antoniou
on tzouras and vocals,
Lefteris Moumtzis
on guitar and vocals and
Colin Somervell
on bass and backing vocals. Antoniou is the main composer. Drummer
Dave De Rose
joined in 2015.
Links
 FACEBOOK
-
  WEBSITE
-
  YOUTUBE